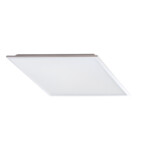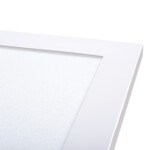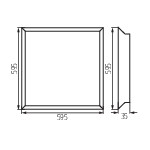 Recessed-mounted LED panel BLINGO BL
BLINGO R 38W 6060 NW
Product code: 29822

In Kanlux BLINGO panels, the LED modules are located on the rear panel wall and light directly downwards. These are backlit panels equipped with lenses that extend the angle of light emission, ensuring the uniformity of illumination. Elimination of the light-conducting plate greatly reduces the possibility of the luminaire yellowing and allows for better light parameters. We also provide a whole range of accessories for Kanlux BLINGO panels.
---



Rated voltage [V]
220-240 AC



Scroll down to the full specification
---
---
Do you want to maintain consistency?
See products from the same series
NEW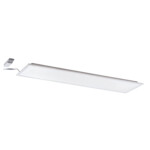 NEW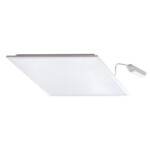 NEW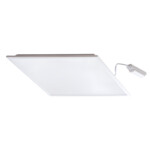 Together better
Select complementary products
Specification
Lampshade material
plastic
Panel/frame material
steel
Place of application
Indoors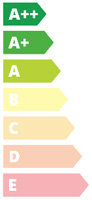 The fixture set includes built-in LEDs with the following energy classes: A++,A+,A
5 years Warranty under the terms of the warranty statement, available on our website
Rated voltage [V]
220-240 AC
Integrated LED light source
Luminous efficiency of the lamp [lm/W]
100
Number of on/off cycles
≥30000
Colour temperature [K]
4000
Colour uniformity [SDCM]
≤6
Colour-rendering index Ra
≥80
Lamp-ignition time [s]
≤0,5
Compatible with a dimmer
no
Class of protection against electric shock
II
Ambient temperature range to which the product can be exposed
5÷25
Place of assembly
Recessed mount in the ceiling
The product is not suitable to be covered with a heat-insulating material
Connection type
Terminal block
The fixture set includes built-in LEDs with the following energy classes
A++,A+,A
Minimum distance from the illuminated object
0,5m
Replaceable light source
no
Materials
Handling and installation
Approvals and certificates
Catalogues, folders and leaflets
Before downloading the materials made available through this website in order to use them for further marketing or commercial purposes, please contact the Kanlux SA headquarters by sending an inquiry to kanlux@kanlux.pl concerning the conditions under which you will be able to use the Kanlux SA trademark or Kanlux SA materials protected by copyright. The use of materials downloaded from this website without our consent is illegal and violates our rights.