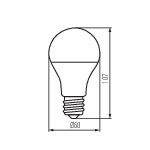 LED light source RAPID LED E27
RAPID E27-NW
Product code: 32920

---


Rated voltage [V]
220-240 AC

Colour temperature [K]
4000


Rated useful luminous flux [lm]
500

Rated lamp-service life [h]
15000
Scroll down to the full specification
---
---
Do you want to maintain consistency?
See products from the same series
Specification
Lampshade material
plastic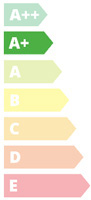 Light source EEI: A+
Rated voltage [V]
220-240 AC
Lamp rated current [mA]
45
Rated useful luminous flux [lm]
500
Luminous efficiency of the lamp [lm/W]
91
Declaration of equality in power rating [W]
42
Colour temperature [K]
4000
Colour uniformity [SDCM]
≤6
Colour-rendering index Ra
≥80
Number of on/off cycles
≥20000
Rated light level [°]
180
Rated lamp-service life [h]
15000
Luminous flux retention factor at the end of rated service life [%]
≥70
Lamp-heating time to 60% of the full luminous flux [s]
Negligible
Luminous flux retention factor after the period of 6000h [%]
≥80
Lamp-heating time to 95% [s]
<2
Lamp service life factor after the period of 6000h [%]
≥90
Lamp premature-failure indicator
<5% po 1000h
Compatible with a dimmer
no
Lamp designed for decorative lighting
Not applicable
Annual power consumption [kWh/1000h]
6
Kształt zarówki
standardowa
Materials
Approvals and certificates
Before downloading the materials made available through this website in order to use them for further marketing or commercial purposes, please contact the Kanlux SA headquarters by sending an inquiry to kanlux@kanlux.pl concerning the conditions under which you will be able to use the Kanlux SA trademark or Kanlux SA materials protected by copyright. The use of materials downloaded from this website without our consent is illegal and violates our rights.