Kanlux IQ-LED LIFE — may the high quality of light become the standard
Unprecedented light comfort
LESS BLUE
Find out more
High Ra
Find out more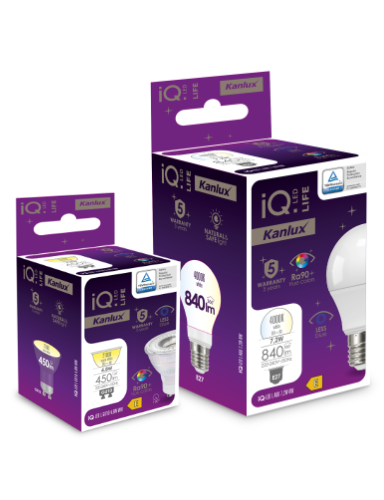 Full spectrum of colours
Find out more
Warranty
Find out more
IQ-LED LIFE series products with a full spectrum of light become an important step towards nature.
Daylight is the ultimate model for us. Thanks to the revolution initiated by Kanlux we are approaching this ideal.
SUN
LIFE
TÜV certificate guarantees quality.
The iQ-LED Kanlux series are products certified by TÜV Rheinland Poland.
This certificate confirms the invariability and constancy of each Kanlux iQ-LED LIFE source.
You can be sure that Kanlux IQ-LED LIFE provide full comfort of use and safety.
Light with the LESS BLUE effect
IQ LED LIFE lamps emit less blue light than most commercially available LEDs. This is important because an excessive amount of blue light is detrimental to your health and wellbeing. Artificial blue light can have a negative impact on your concentration, quality of vision and also impair the quality of your sleep. IQ-LED LIFE with the "Less Blue" effect is a solution that helps you and your loved ones maintain healthy eyes and take care of your wellbeing, whether you are working from home or spend half the night reading a gripping book.
Closer to natural light
What do we love about natural light?
It makes our surroundings more comfortable.
It is perfectly consistent with the needs of our bodies.
It has a beneficial effect on our vision.
Kanlux IQ-LED LIFE lamps emit a full spectrum of light colours, thanks to which they have the same effect on us as natural daylight and create a comfortable environment for all your daily activities.
IQ-LED LIFE with excellent colour reproduction
Artificial light can distort our colour vision, but with IQ-LED LIFE you will see all colours as they really are. IQ-LED LIFE lamps are characterised by a high colour rendering index (Ra90), which translates to the perception of colour by the human eye. With Kanlux IQ-LED LIFE your world will always be full of natural colours.
Warranty
While making decisions you focus on the quality: you choose the best products for yourself and your loved ones, you follow smart trends, you lead a healthy lifestyle. Good quality is never accidental. The question of light for your home is no different — choose it consciously. Kanlux IQ-LED LIFE lamps with a full spectrum of colours and the "Less Blue" effect create a comfortable environment for you and your loved ones to study, work and relax. In addition, thanks to the 5-year warranty on IQ-LED LIFE products, you can forget about replacing the bulbs for many years.
KANLUX IQ-LED LIFE are universal
They fit all lamps — in your kitchen, bedroom, living room or nursery.
Thanks to two colour temperatures (warm or neutral), you can instantly pick the product best suited to your needs.
You want to know more? Download folder
Frequently asked questions
Find the answers to the questions our customers ask most often

Where does the blue light come from?
In the natural light that we perceive as white, we can actually find all colours: from dark violet through blue, green, yellow up to red. We can see them when we observe a rainbow in the sky, which is a result of white sunlight dispersing in raindrops into its individual colours. Blue light is therefore a natural phenomenon, a part of the light the sun provides us with. Artificial light, such as that emitted by the vast majority of currently available LED bulbs, can contain too much blue colour, which is harmful to the human eye. Artificial blue light is also emitted by monitor screens, tablets, smartphones and artificial lighting. Kanlux IQ-LED LIFE light sources with the Less Blue effect emit significantly less blue light than the LED light sources used so far. The difference may not be visible to the unaided eye, but it makes a difference to your wellbeing and health (not only of your eyes).

Why is blue light harmful?
Too much blue light makes you more likely to experience eyestrain, impaired sleep quality, tension, and general fatigue. The lower content of blue light in the spectrum of the Kanlux IQ-LED LIFE light sources has been confirmed by laboratory tests conducted by the Kanlux Laboratory.

What is Ra90+?
The colour rendering index (Ra) informs the user how faithfully a particular LED light source reproduces the colours of the object it illuminates. The higher the value, the more natural the colour of the objects observed. This is the best way to explore the authentic colours of clothes, walls, paintings and plants. An example of inaccurate colour reproduction could be shopping — you buy an orange item and when you leave the shop it turns out to be brick-red. By choosing Kanlux IQ-LED LIFE with a high Ra90+ indicator you are choosing accurate colour reproduction of all that surrounds you.

What is the difference between Kanlux IQ-LED LIFE and IQ-LED light sources?
Kanlux IQ-LED LIFE light sources are equipped with the latest generation of light-emitting diodes (LEDs). Thanks to them, Kanlux IQ-LED LIFE lamps emit artificial light with parameters that are as close as possible to those of the natural sunlight that reaches us every day. Faithful colour rendering and low blue light content combined with high energy efficiency are the unique advantages of Kanlux IQ-LED LIFE light sources.

What warranty do the light sources come with?
The IQ-LED LIFE sources are covered by a 5-year warranty — the longest among all products in the Kanlux IQ-LED family. 5-year warranty under the conditions of the warranty statement.

What does it mean that Kanlux IQ-LED LIFE lamps emit a full spectrum of light colours?
Kanlux IQ-LED LIFE light sources emit light whose spectrum is closer to natural sunlight than the spectrum of LED light sources used so far. This allows ambient colours to be reproduced even more faithfully in artificial lighting, in a way comparable to daylight conditions.