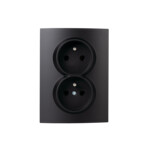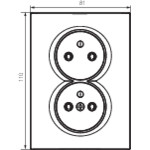 Type E double power socket, complete, with contact protection LOGI
LOGI 02-1254-142 cm
Product code: 33610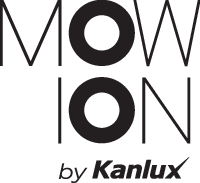 A double grounded complete socket outlet with the phase in the same place, i.e. the phase is always on the left when facing the front of the socket outlet. The socket outlet also has contact protection. The socket outlet is intended for boxes larger than Φ60 (at least Φ68). The socket outlet is complete, i.e. it does not require an additional frame.
---
Scroll down to the full specification
---
---
Do you want to maintain consistency?
See products from the same series
Specification
Terminal type
Screw terminal
Material of contacts
CuZn70
Class of protection against electric shock
I
Materials
Approvals and certificates
Catalogues, folders and leaflets
Before downloading the materials made available through this website in order to use them for further marketing or commercial purposes, please contact the Kanlux SA headquarters by sending an inquiry to kanlux@kanlux.pl concerning the conditions under which you will be able to use the Kanlux SA trademark or Kanlux SA materials protected by copyright. The use of materials downloaded from this website without our consent is illegal and violates our rights.
Gn.podw. Fr ZZF LOGI 02-1254-142 cm