House and apartment
Do it yourself
LED
Applications
Lighting fixtures
Wardrobe in a light style!
We often face the dilemma: "What to wear?", Although the wardrobe is bursting at the seams. Sometimes it is enough to organize the wardrobe, and sometimes ... the right lighting. We will tell you how to light a home wardrobe well, to make it bright and functional.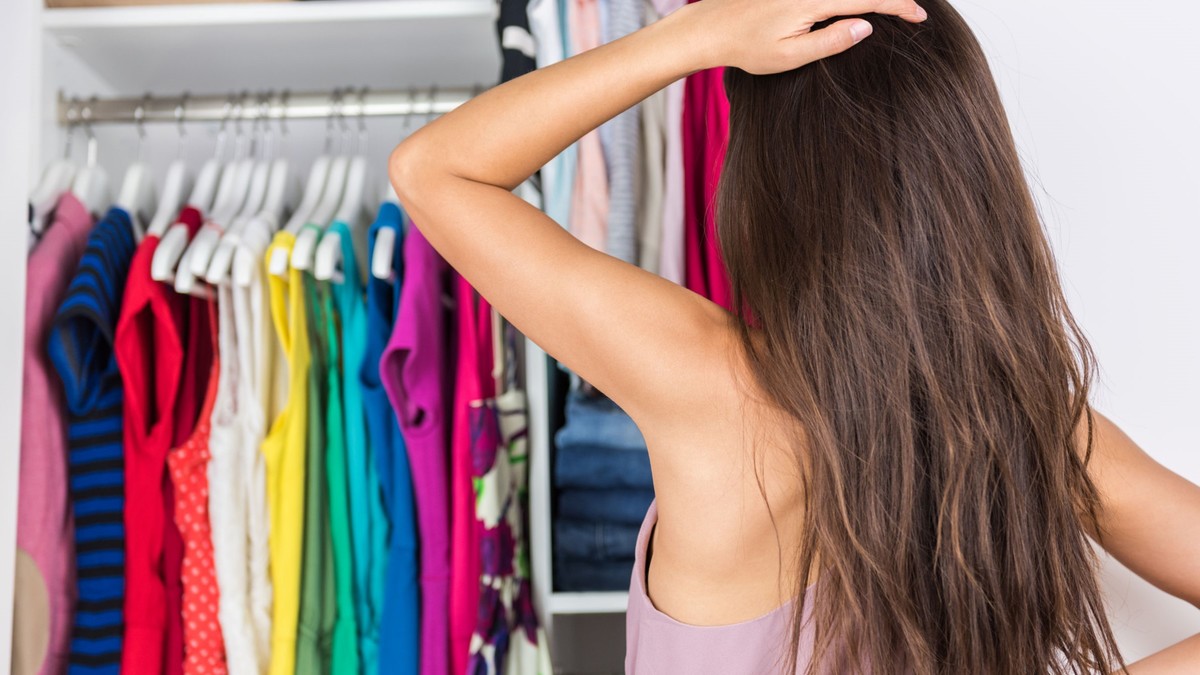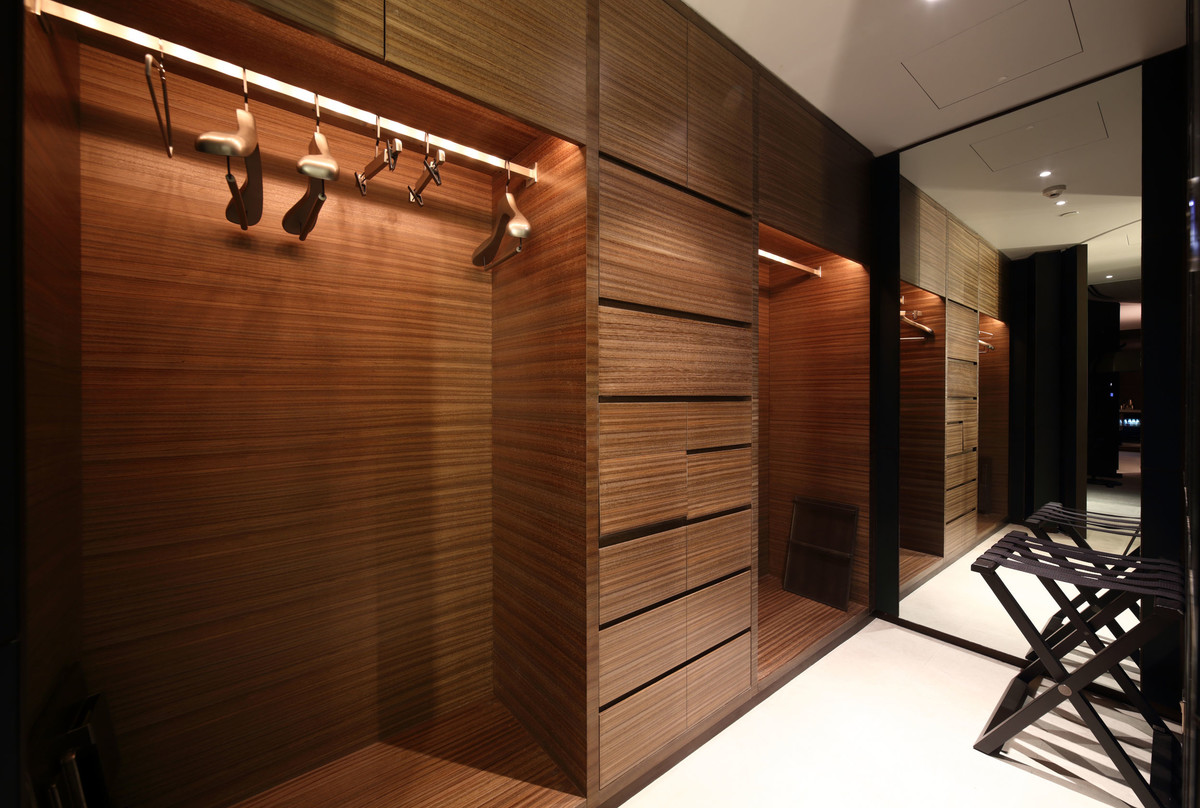 Each of us dreams of a beautiful, spacious and orderly wardrobe. For it to be so it must definitely be properly lit. If we plan the lighting points correctly, choose the right parameters of the bulbs and accurately illuminate the most important places, we will easily and quickly find what we are looking for. We will tell you how to light a home wardrobe well, to make it bright and functional. Light strengthens the effect of order and can give the impression of luxury. When we add a mirror to it, we will enlarge the space even more optically. In the case of a wardrobe, this is especially important, because most often home wardrobes are small and without windows. In addition, a well-lit wardrobe is also much more comfortable in everyday use, and that's what we mean.
How to get this effect? We can apply several solutions. One of them is the choice of traditional spot lighting. We can put eyelets on the ceiling (for example: Kanlux DALLA or extremely elegant Kanlux SIMEN), and use small decorative recessed luminaires near the floor. In addition, it is also worth illuminating the recesses, shelves and clothes hangers. Bringing light to individual partitions and shelves is possible thanks to the use of additional furniture lighting. Smart, compact will not be conspicuous, and we will achieve a great effect thanks to it. We can place them on the side, inside the wardrobe, under and above shelves, and even in clothes bars (e.g. Kanlux PIRMO LED with proximity sensor).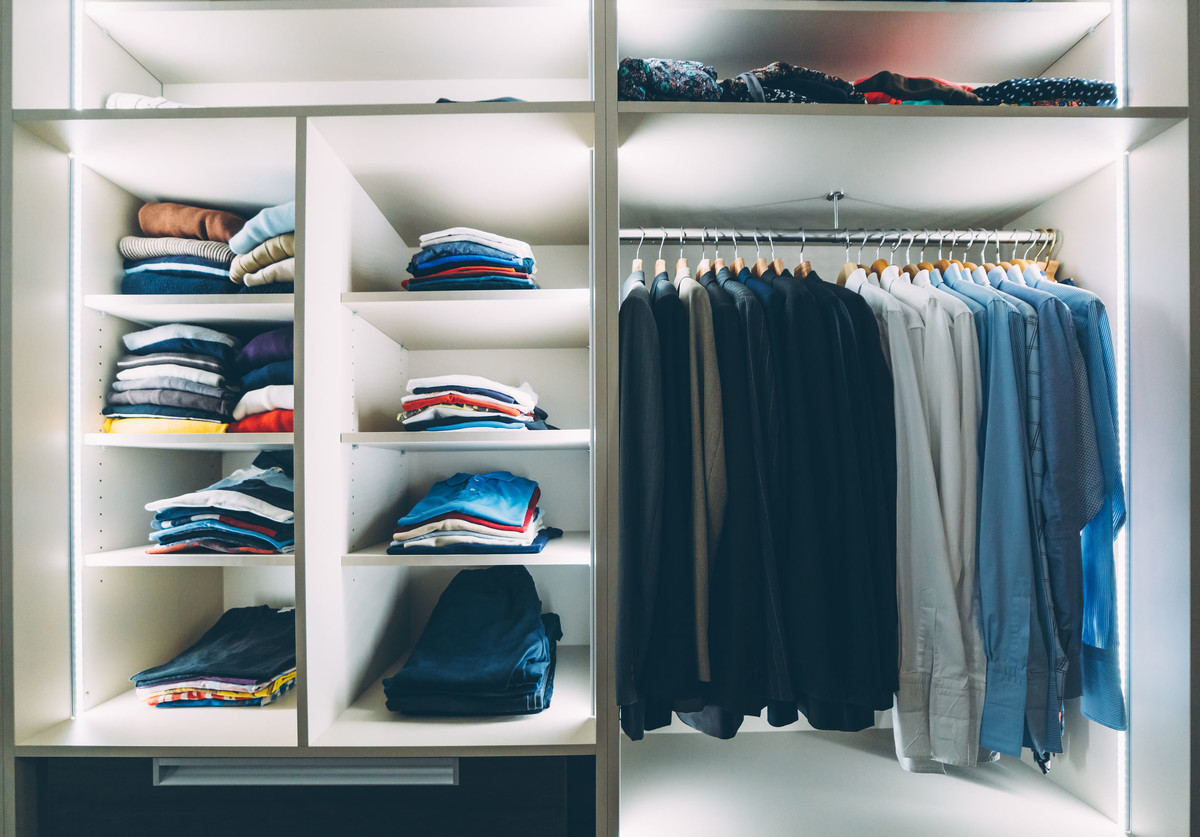 Reaching for furniture fittings it is worth to opt for integrated LED fittings. They are very durable and will serve us for a long time, without having to replace the bulb.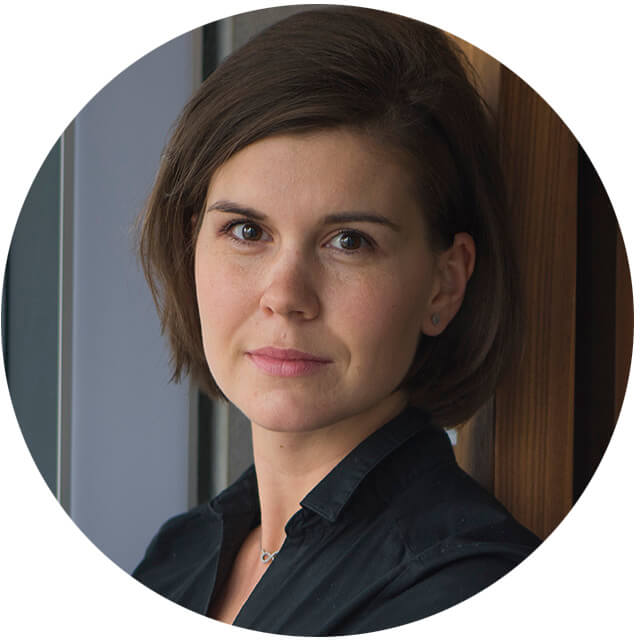 To get an interesting lighting effect, we can install linear fixtures in the wardrobe. Installed vertically, they will look modern and attractive, and mounted at the edge of the wardrobe will accurately illuminate all its contents. However, one should skillfully plan the lighting so as not to cause the phenomenon of glare - that is dazzling.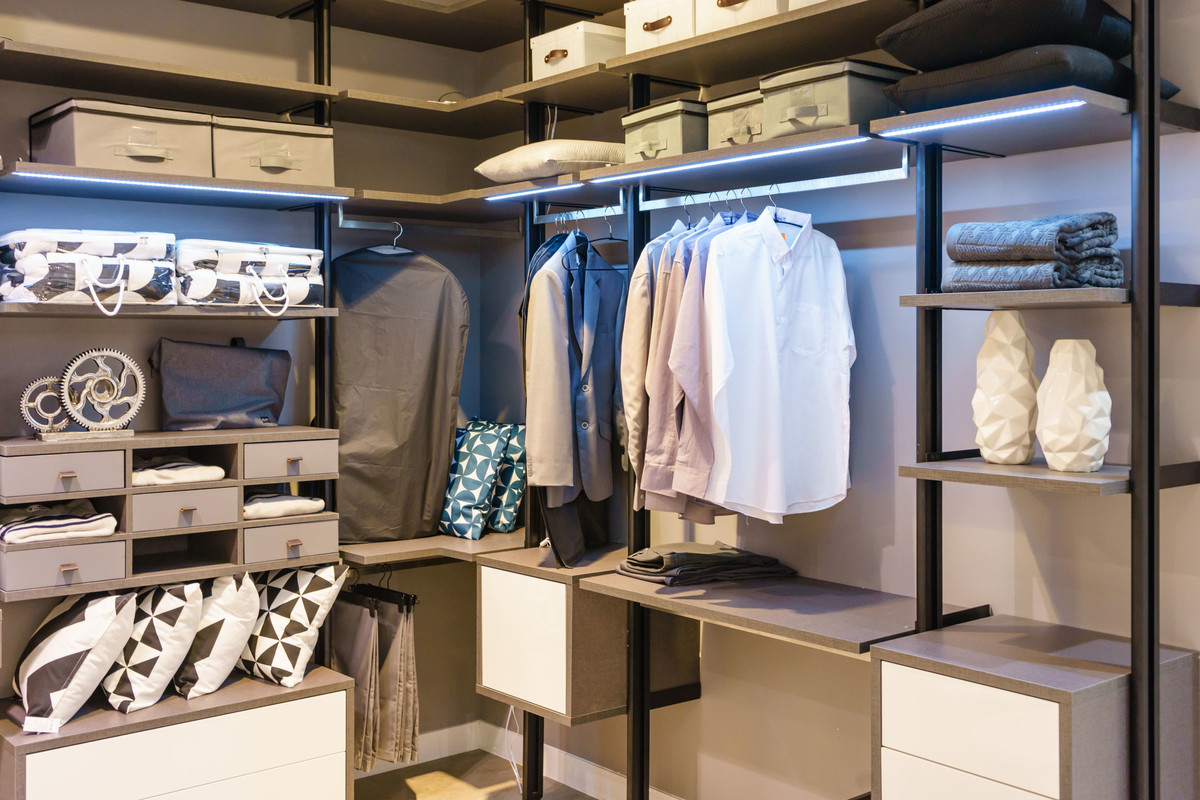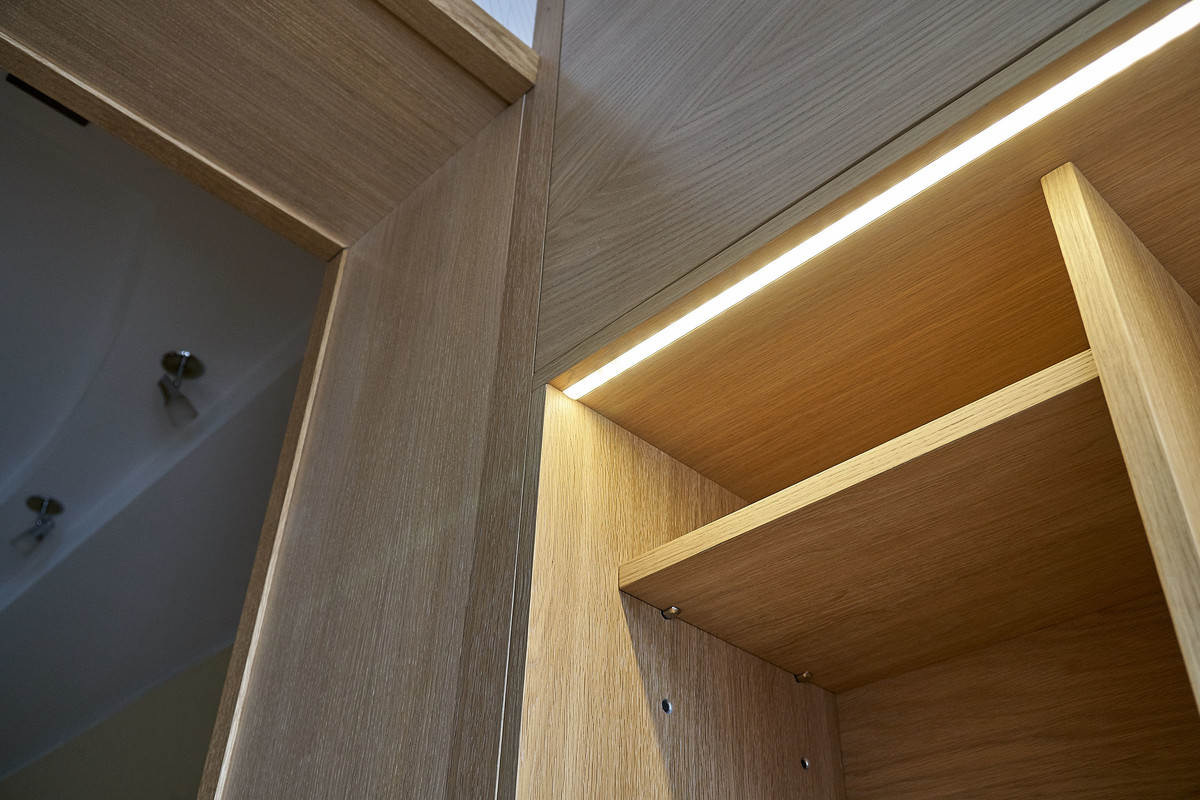 An interesting, modern and versatile solution that allows you to achieve a similar effect is the use of aluminum profiles and LED strips. This solution will work in every wardrobe regardless of its size. The profiles are light and versatile and easy to install. The tapes are available in many colors, and thanks to the control we can get additional effects, e.g. darken or brighten the interior. LED strips can be used to illuminate shelves, mounting them vertically or horizontally. We can also install them in the floor, the possibilities are almost limitless.
In addition, we can also illuminate clothes bars. This is a very interesting visual effect, as well as considerable comfort when watching clothes. The use of tapes and profiles is limited only by our imagination. We can combine colors and effects and place tapes in different places and at different heights. You create and edit! Ready-made LED strip sets are also available for self-assembly (here you can read more about them). We connect them to the power supply in the place where we want and it's ready! Different versions are available, with built-in motion sensor, with dusk sensor or with switch. We do not need profiles or power supply, we stick the tape to the appropriate place, next to it stick the attached power source and it's ready! From time to time, however, we need to replace the batteries or recharge the battery.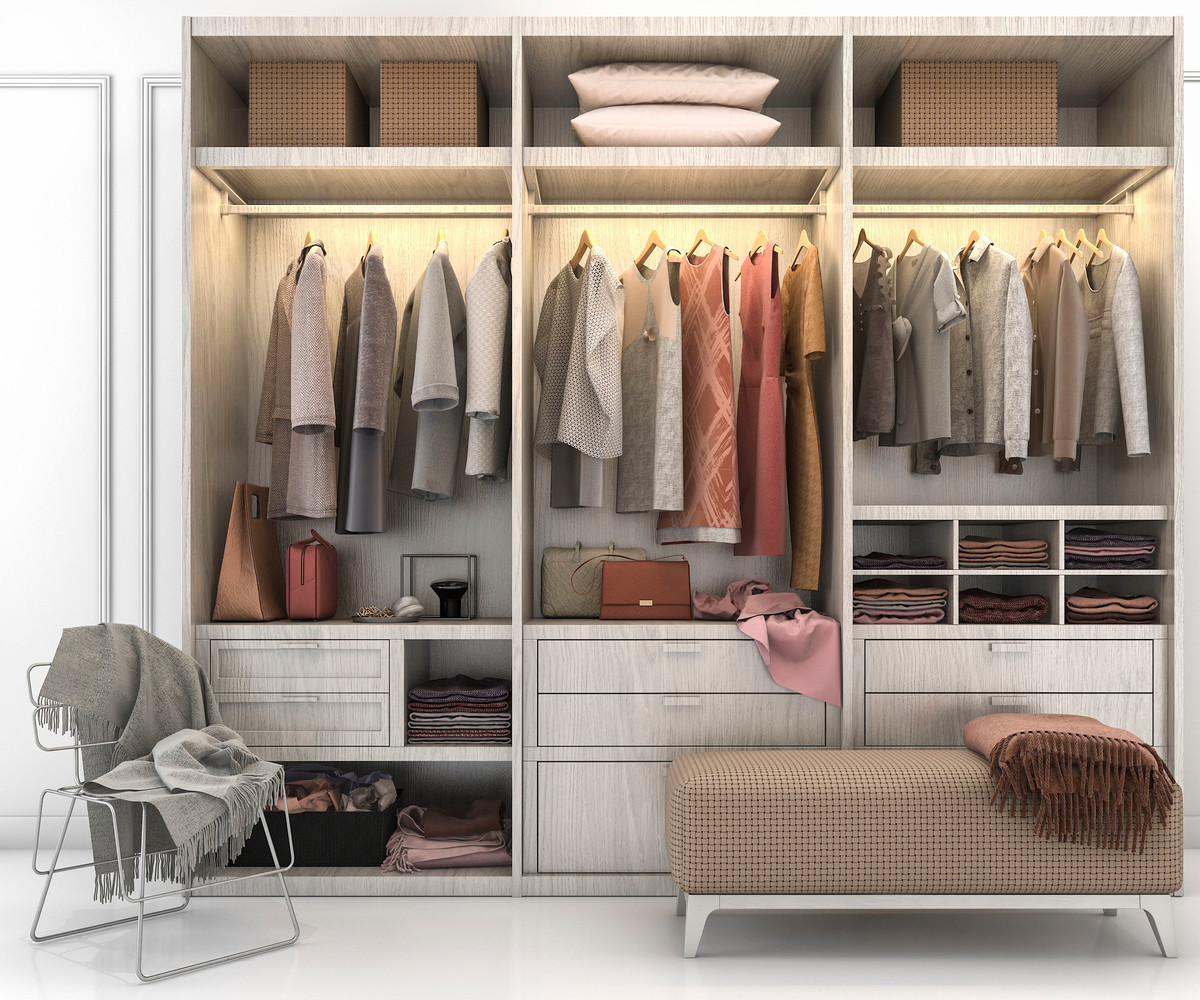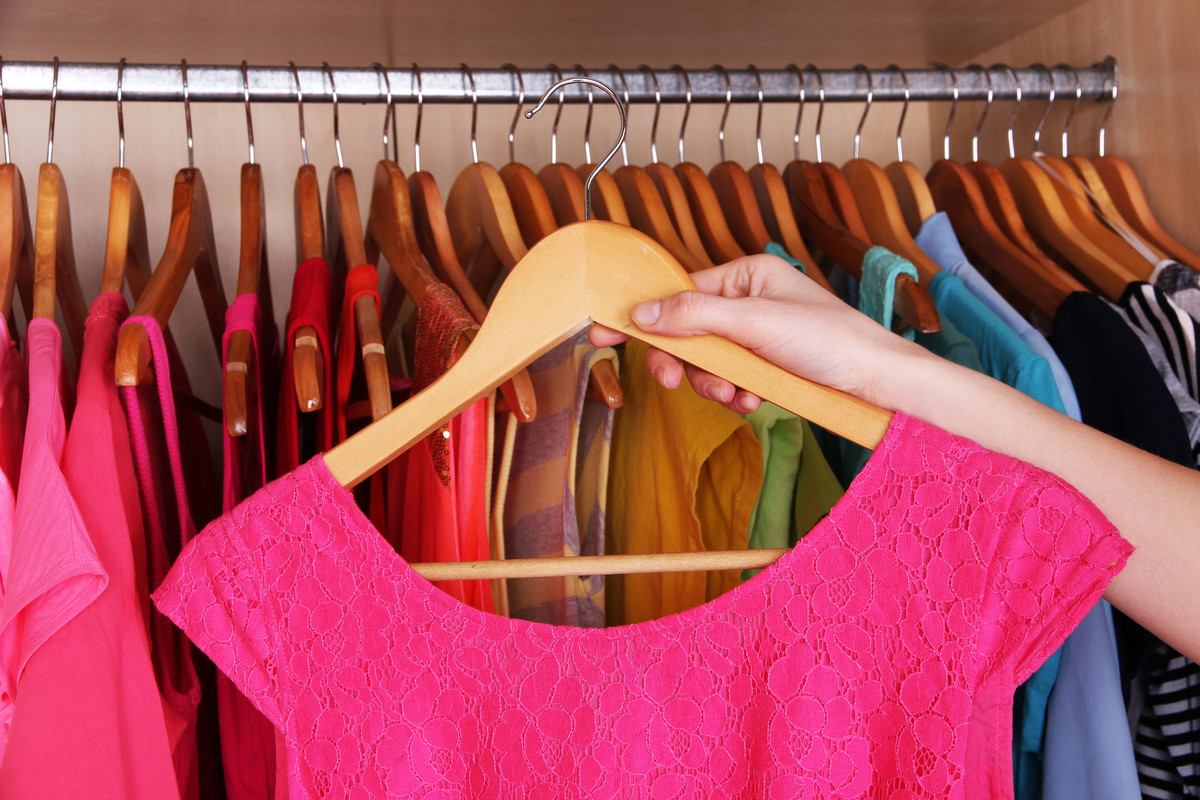 Correct color pickup is very important in both stores and home wardrobes. The bulbs used should have the highest color rendering index, denoted as Ra or CRI. The color rendering index is expressed by a number from 0 to 100. In the case of wardrobe lighting, it should be at least 90. Then the light almost perfectly reflects the original colors of clothes and shoes. It is worth paying attention to when choosing lighting.
The second important parameter is the color of the light. In practical terms, neutral white will be best. We measure the color of light in Kelvin, neutral white is 4000 K. It is a color that will allow us to match the colors of clothing well.
A large wardrobe means more possibilities!
If the space in the apartment allows you to arrange a large, comfortable wardrobe, it is worth spending a little more time to design its lighting system. Modern light sources, LED strips, aluminum profiles, wall sconces and motion sensors give many possibilities and allow in a simple way to significantly increase the usability and aesthetic value of the room.
---
Other articles