Lighting fixtures
Applications
LED
Do it yourself
House and apartment
Trendy
Colour temperature
Which desk lamp to choose for the office, bedroom and children's room?
Desk lamps work well not only in offices, but also at home. They are multifunctional. They can provide additional lighting when working or studying, stand on a bedside table or illuminate interiors as an additional lamp. Which models should we consider to ensure that our requirements are met? Read the article.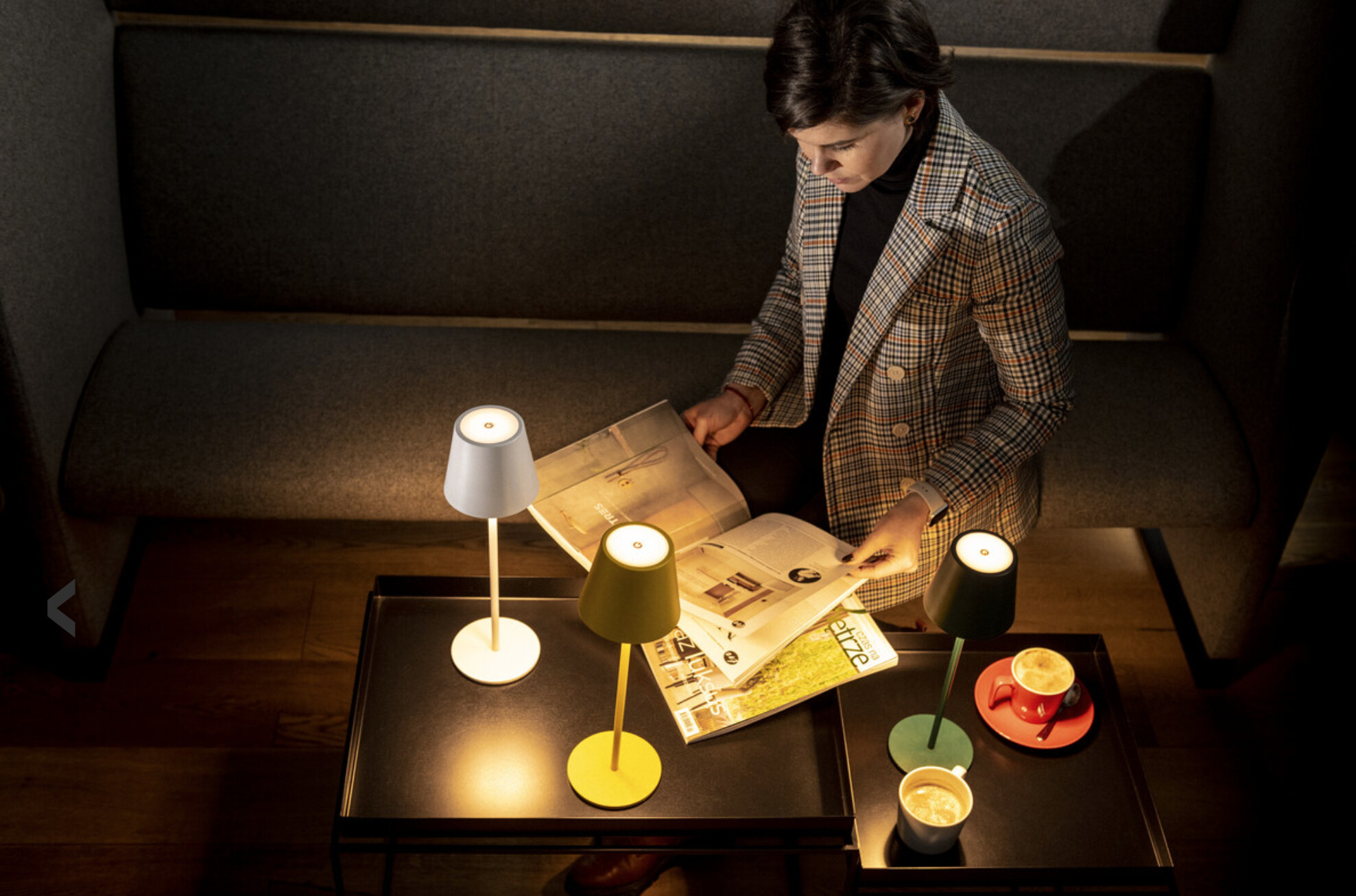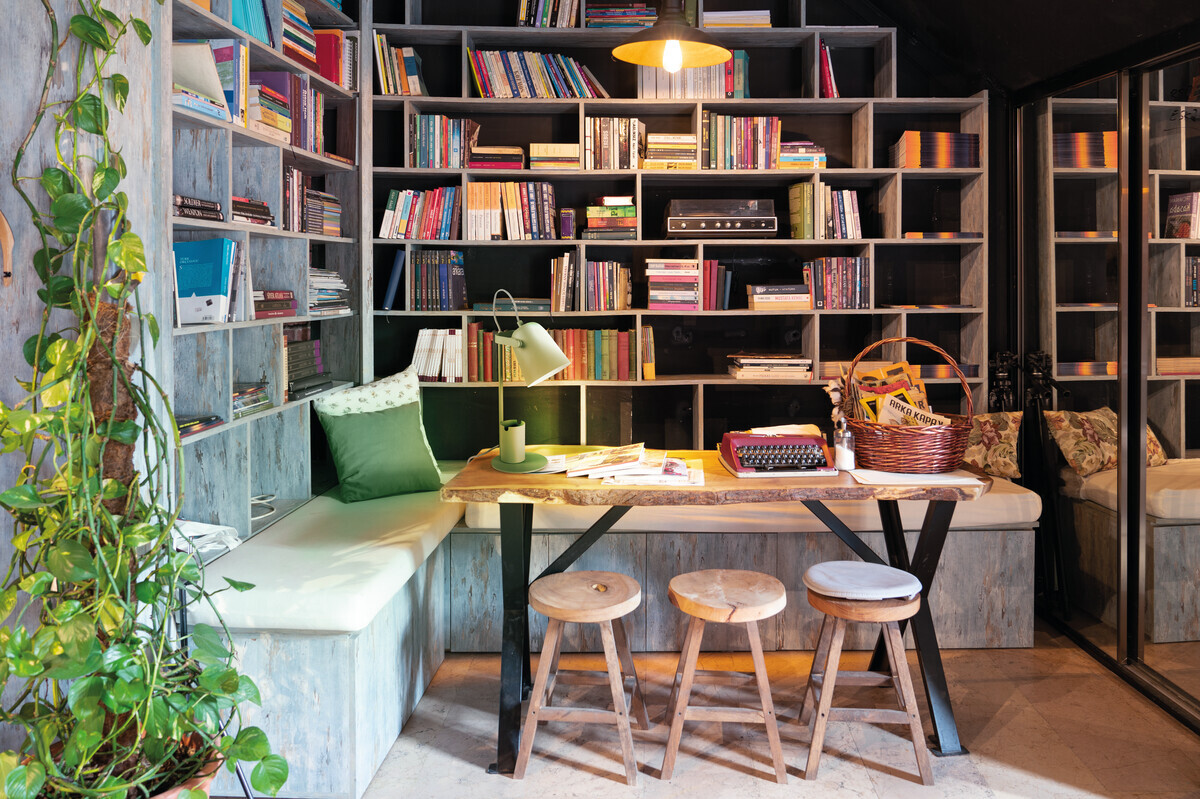 Desk lamp bulbs
Light for work should be neutral or cool – in such light, focus and concentration are at their highest. Choose 5000K – 6500K cool white or 3500K – 4500K neutral white bulbs, as indicated on the packaging. You may also find CW (cool white) or NW (natural/neutral white) indications. If the light is to be used for relaxation, it is best to use a warm colour – 1800K to 3000K. Models with a replaceable light source are a good choice when the lamp is intended to serve a specific purpose. LED bulbs are the best choice – there are many reasons for this: energy efficiency, choice of light colour (from super warm to neutral to cold), variety of shapes, additional decorativeness, durability, absence of mercury.... the advantages are numerous.
Read also: LED lighting – pros and cons
Desk lamp used at work
The main light is often not sufficient for work – whether you work from home or from the office. It is a good idea to use an extra desk lamp to help with your duties and look after your eyesight. If you only use one desk, opt for a robust design. Kanlux AGZAR is a table lamp made of steel. Thanks to its versatility, it is suitable for modern as well as classic interiors. Its advantage is the wide rotation of the lampshade. If you need the highest quality, this is the product for you. It is a lamp that is very heavy and therefore stable – this is what sets it apart from low-quality plastic lamps.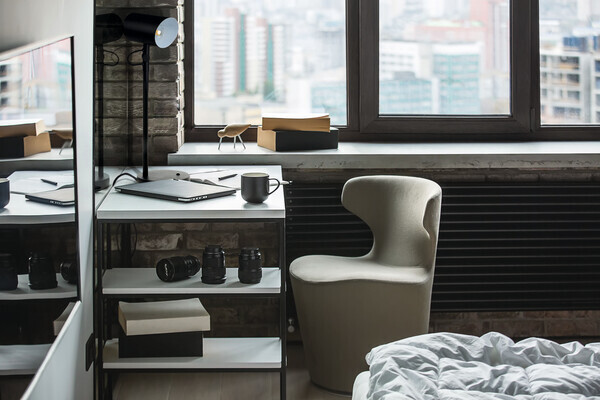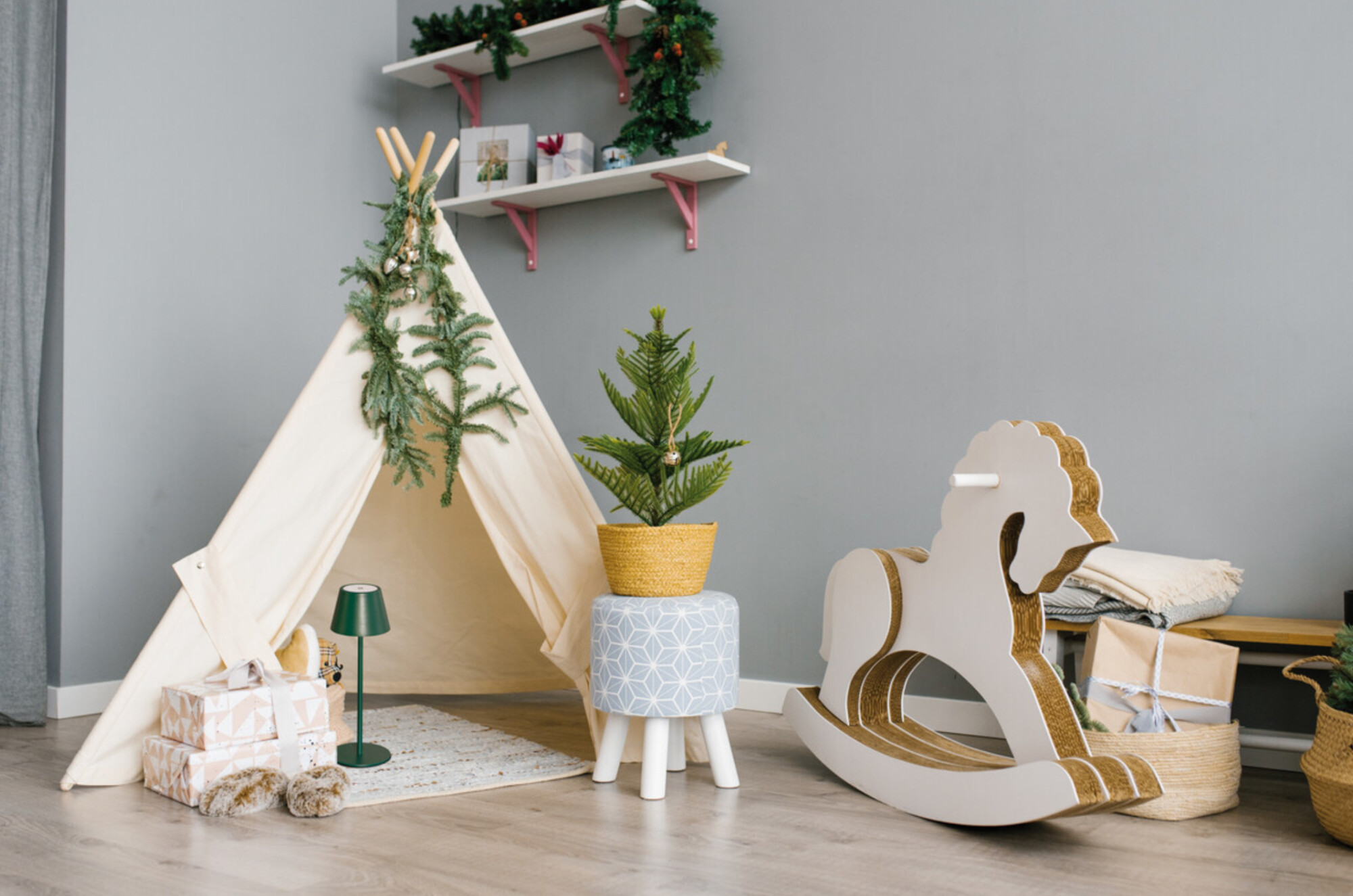 Do you work from home and like to switch the room? Do you often go out on the terrace or balcony, occupy the dining room table or sit in the home office? Opt for a mobile solution. Kanlux INITA LED recharges via a USB port, and thanks to IP54 waterproofing you can place it on the terrace or in the garden. It is also great for travelling thanks to its easy folding. It is dimmable – so you can use it as a bedside lamp. All the functions of this light are available at the touch of a button.
You will also like: What lighting to choose for the office?
Desk lamp for studying
Children, teenagers and students need a comfortable environment for effective learning. In addition to functionality, the appearance of the lamp is also important, because simply put – pretty things make us feel better. Choose durable solutions that have good performance and fit in with the aesthetics of the interior. Kanlux RAIBO is a retro-style lamp in standard – black and white – and pastel colours. It has an organiser with a holder for pen or glasses, which helps to keep your desk tidy, but also to have an extra highlighter or pencil on hand. The foam pad ensures that the lamp does not scratch surfaces when moved.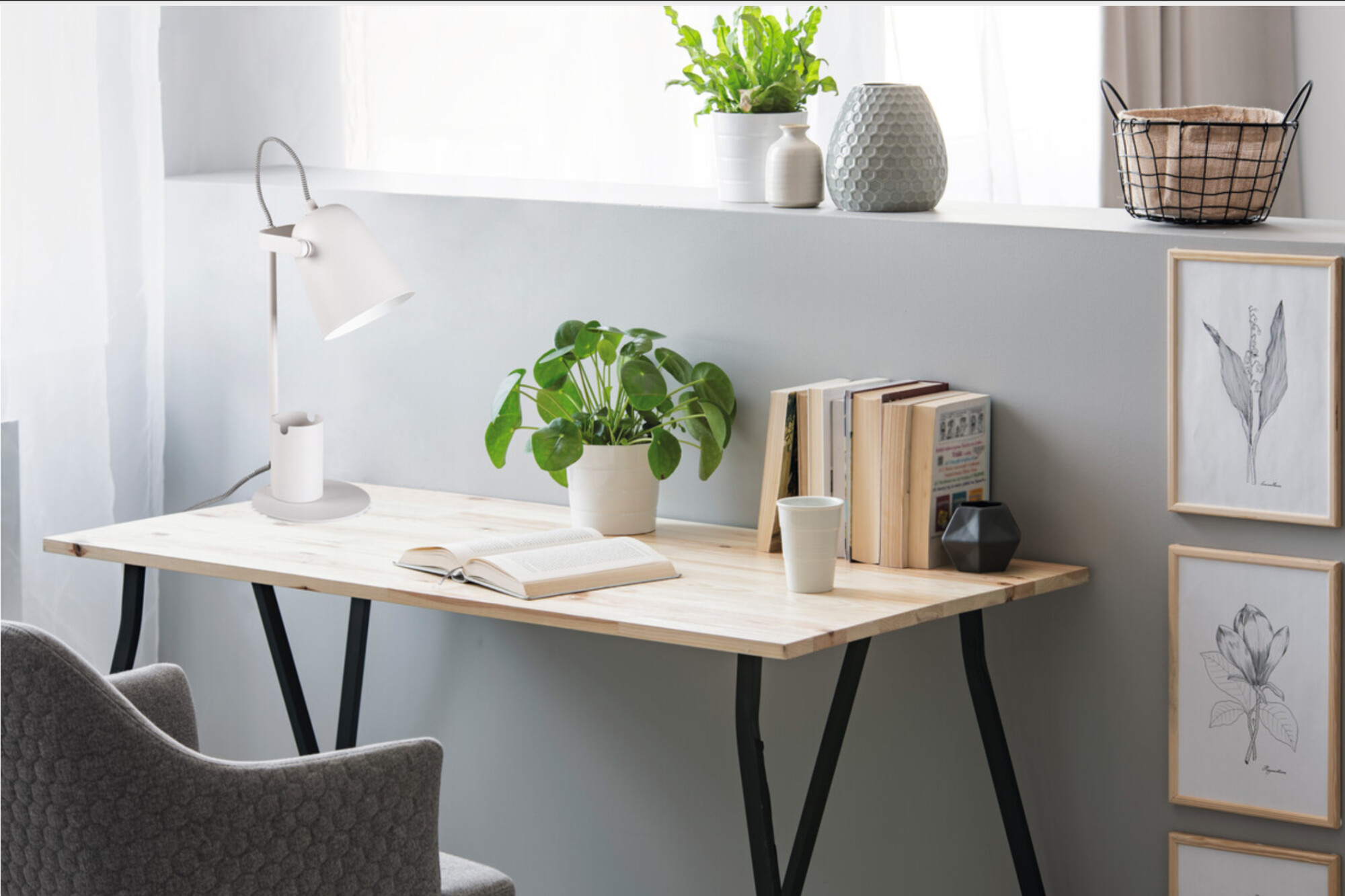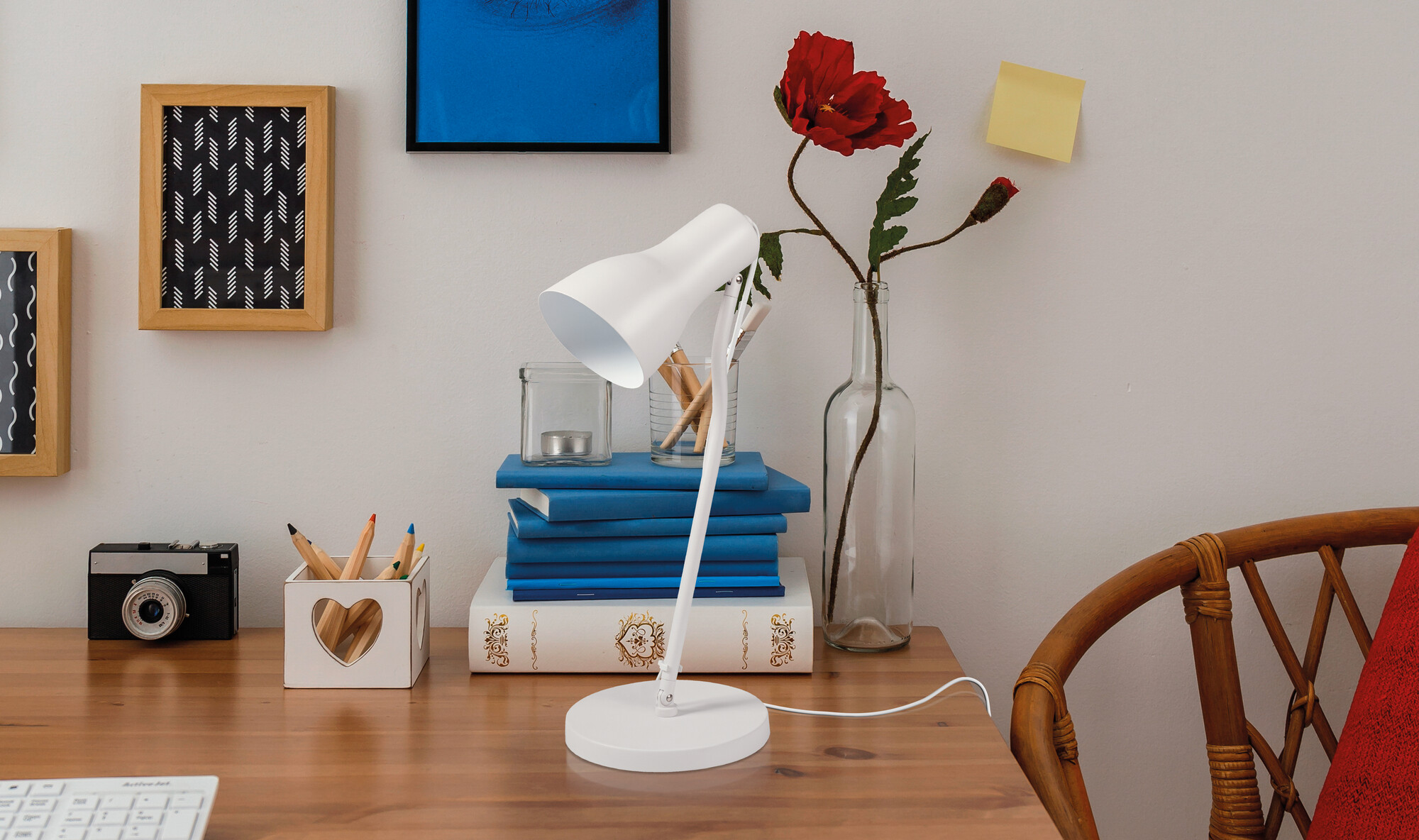 The design of the arm is also important. Free access to the light and the possibility of adjusting it as needed will prove useful when carrying out large projects. Kanlux JUSI is also a lamp with an interchangeable bulb – you choose the intensity of the light and its colour. The lamp is compatible with standard bulbs with E27 caps. Another advantage is the steel housing and the switch, which is located on the power cord. This lamp has a non-standard tilting of the arm in relation to the base by 40 degrees and the lamp shade itself by 180 degrees. Such tilt of the arm is unique compared to most lights, and it is a very significant and practical feature. The lampshade itself also provides a wide beam of light – such a lamp can illuminate large work areas.
Desk lamp as additional lighting
Desk lamps work well not only for work, but also as additional lamps – right next to wall lamps and floor lamps, in such cases we usually speak of table lamps or bedside lamps. They look good on tables and chests of drawers and can be used to create an atmosphere to an interior or to illuminate ornaments, flowers, paintings or hanging shelves. Kanlux LARATA is made of steel and is a unique product made with attention to every detail. Thanks to its weight, the lamp remains stable and does not sway. The arm is adjusted with two elegant screws and the visible cable is placed in an aesthetic braid.

If you use a desk lamp for work or study, be sure to position it in the right place. It should be on the opposite side to your dominant hand. The optimum space between the bulb and the tabletop should be around 35 cm (however, the more intense the light, the larger the space can be). It is worth following this advice to make your working or studying conditions as comfortable and healthy for your eyes as possible. When you've finished your duties – if you've opted for a lamp with a non-removable source and additional functions – move it to your bedroom or dim the light and set yourself up to relax!
---
Other articles