Halogens
House and apartment
LED
How to choose light bulbs for your home?
How much time do you spend choosing the right bulb? Paradoxically, this is very important. Light, its power, colour and arrangement, are critical to the functionality and appearance of rooms. What should be the deciding factor when choosing a light bulb? Keep reading.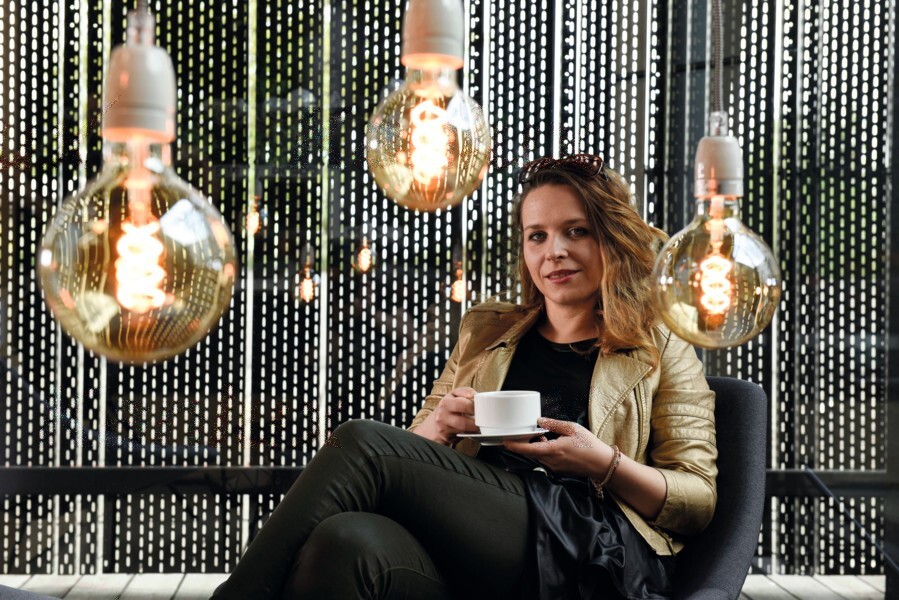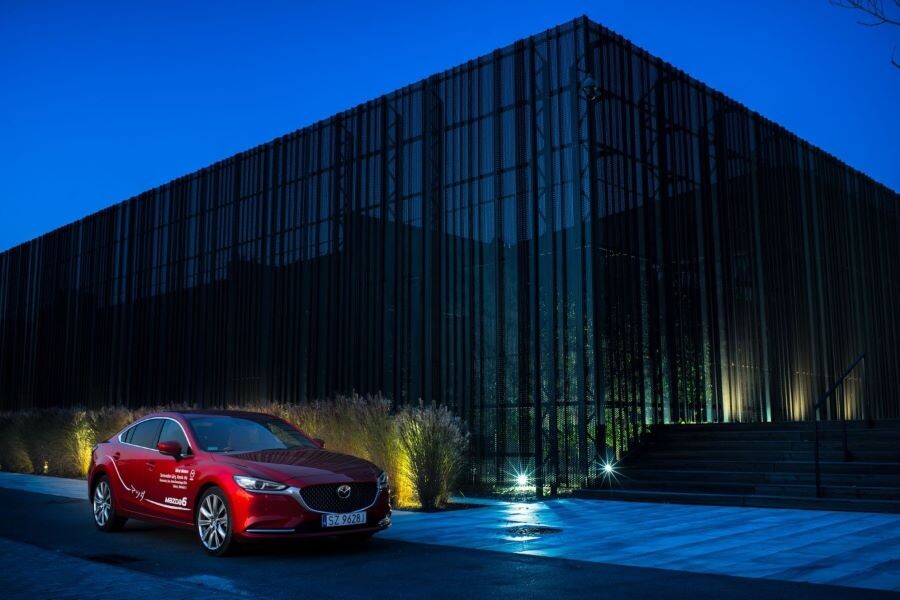 H for Halogen
Halogens were the first successors to the traditional light bulbs because, just like in the traditional bulb, the light in a halogen bulb is created by the incandescence of prongs. Nevertheless, the term "light bulb" is conventionally applied to all "light sources". Despite their efficiency, unchanging brightness over a long lifetime, halogens also have drawbacks: they heat up the objects illuminated as well as consume much more electricity than fluorescent lamps or LEDs. Nevertheless, they are preferred in fixtures requiring a powerful light source to illuminate large rooms. Currently, they are used in warehouses or large industrial areas, as well as outdoors (often in the form of floodlights). They are also used in automotive lighting. Halogen bulbs last twice as long as conventional bulbs.
F for fluorescent lamp
A fluorescent lamp is the first "green" type of light source. Compared to a traditional light bulb, it is characterised by lower energy consumption (up to -80%), low price and long life (approx. 10 thousand hours). However, temperature sensitivity, the time needed for it to become fully effective, and the mercury vapour content cause their popularity to decline.
L for LED
The most popular LEDs today owe their success to energy efficiency, durability and the possibility of selecting the colour of light. In newer models, you can even change them freely, like in Kanlux XLED STEP CCT. LEDs, or light sources using light-emitting diodes, consume 80% less energy compared to traditional light bulbs and barely heat up. That is why they are perfect for places where lamps have to be on for a long time; they are also resistant to frequent switching on and off. In addition, some LED bulbs have built-in dimmers, allowing us to freely adjust light intensity in the room, depending on the needs and time of day. The lifespan of LED bulbs ranges from 15 to 30 thousand hours.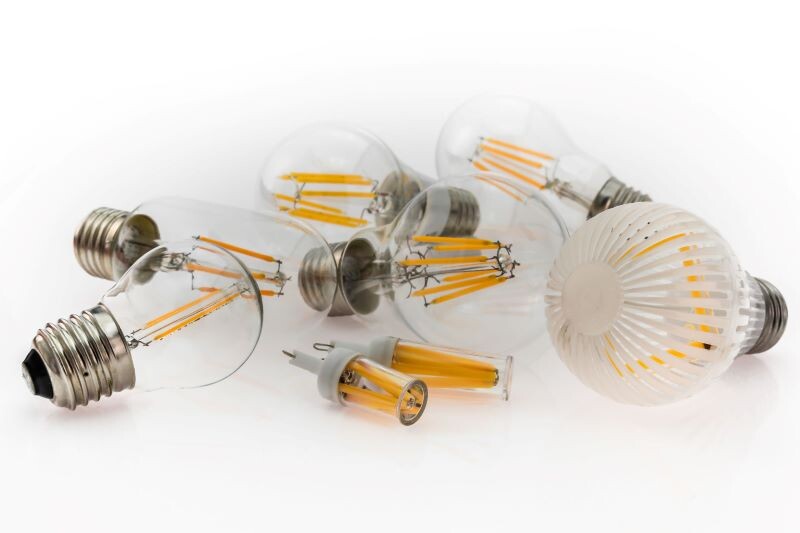 To choose light sources well, consider the following factors:
● thread/shank type,
● bulb shape,
● power and brightness,
● light colour.
Most common shank types
E27: the most common thread with a diameter of 27 mm (like the IQ-LED A60), used in LEDs, halogens and compact fluorescent lamps, standard in ceiling lights and often in wall lights.
E14: 14 mm thread, this type of thread is used for LED bulbs, compact fluorescent lamps and halogen bulbs and is mostly used for decorative lighting and small lamps such as desk lamps.
GU10: mounted on two thick pins, 10 mm apart, inserted and then turned in the socket of the luminaire, mostly used in household and decorative lamps.
G53: mounted on two legs with a distance of 53 mm, this type is used for halogen and LED spotlights.
MR16: press-fitted into the socket, designed for LED spotlights (12V), they are used in luminaires and suspended ceilings, as well as in bathrooms and other rooms with a high degree of humidity.
Bulb shape
The bulb shape of the light source is now limited only by the imagination of designers. Of course, it should be matched to the format of the luminaire or the style of the room, but it is worth remembering that its shape can dramatically change the lighting effect for sources of the same power. "Candles" (such as LED XLED C35T SW), spheres, spirals and "tubes" diffuse light, so they are more suitable for ceiling and wall lights. Spotlights direct the beam at a selected object, allowing you to precisely perform manual tasks around it (e.g. in the kitchen or bathroom).
Halogens are available in three variants: classic, imitating traditional incandescent lamps (used in ceiling and wall lighting), decorative, candle-shaped (standing lamps, wall lamps and chandeliers) and "spotlight-type" (suspended ceilings, wall lamps).
Fluorescent lamps are available in a variety of shapes: spiral (quick to reach full brightness and giving lots of diffused light), decorative (e.g. candles, decorative spirals or spheres, useful where the light source will be visible) and basic (linear, circular, U-shaped).
LEDs - due to the size of diodes and operating characteristics, they are available in classic, decorative (such as XLED C35) and spotlight shapes, as well as in the form of tubes replacing traditional fluorescent lamps, such as LED T8 LED N.
See also: Lighting trends 2021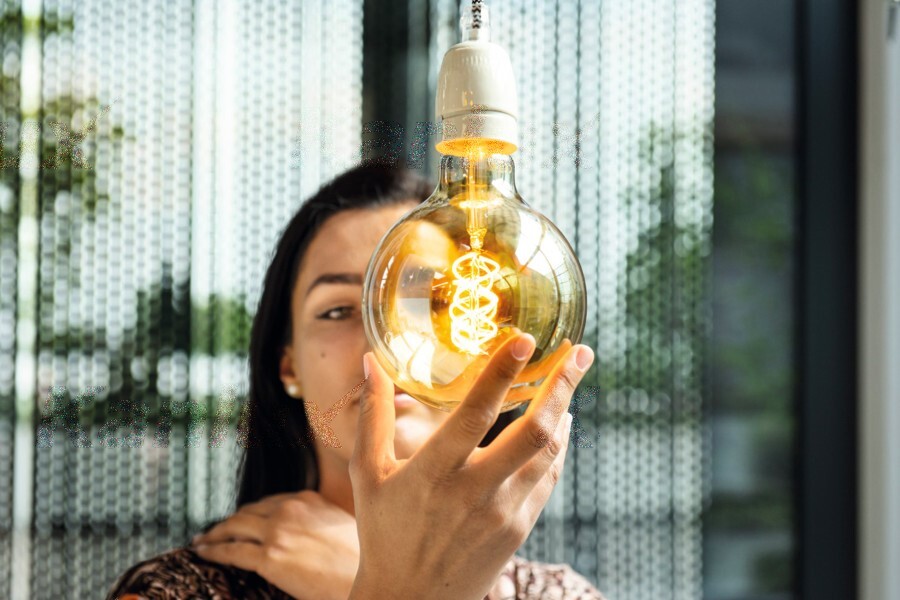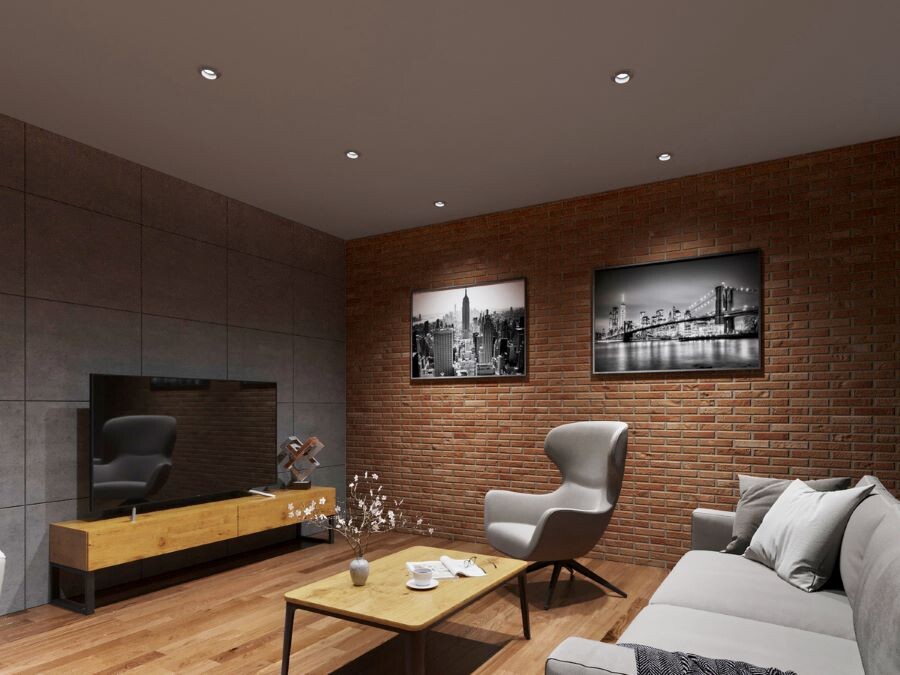 Bulb power and brightness
In September 2009, in Poland, traditional light bulbs above 100W and frosted bulbs were withdrawn from stores. Newer light sources: halogens, fluorescent lamps or LEDs, using the same power, give a much greater brightness, measured in lumens. With a consumption of 25W, a halogen gives a light output of up to 400 lumens, an energy-saving fluorescent lamp only needs 8W to achieve this, while a LED diode easily achieves this light output with a consumption of 4W.
How to choose the power and brightness of a light source for a room?
main ceiling lamps, in the centre of the room: 900-1500 lumens,
wall lamps: 140-350 lumens,
lamps for work and study areas: 400 - 600 lumens,
main lamp in the kitchen or bathroom: 800-1000 lumens, supplementary lighting, 150-300 lumens,
directional lighting in the kitchen or bathroom: 450-700 lumens.
Colour temperature
For the living room, choose neutral light bulbs - between 3500 and 5000 Kelvin. This colour range is best suited for living room lighting.
In the bedroom, make sure to provide a warm light (2700-3300 Kelvin) to improve the quality of rest.
For the kitchen, it is worth choosing a neutral light (3500-5000 Kelvin) so that it faithfully reflects the colours of items and dishes, while paying attention to the Ra parameter (90 or higher will be the best).
For a study or student room, choose a neutral or cool colour as it improves concentration. A colour temperature of 3500 - 4000 K is considered the best for reading. Cool light (5500 Kelvin and above) stimulates us and improves concentration.
Not sure which light colour to choose? Try the Kanlux XLED STEP CCT solution, allowing for gradual change of light colour in a single bulb.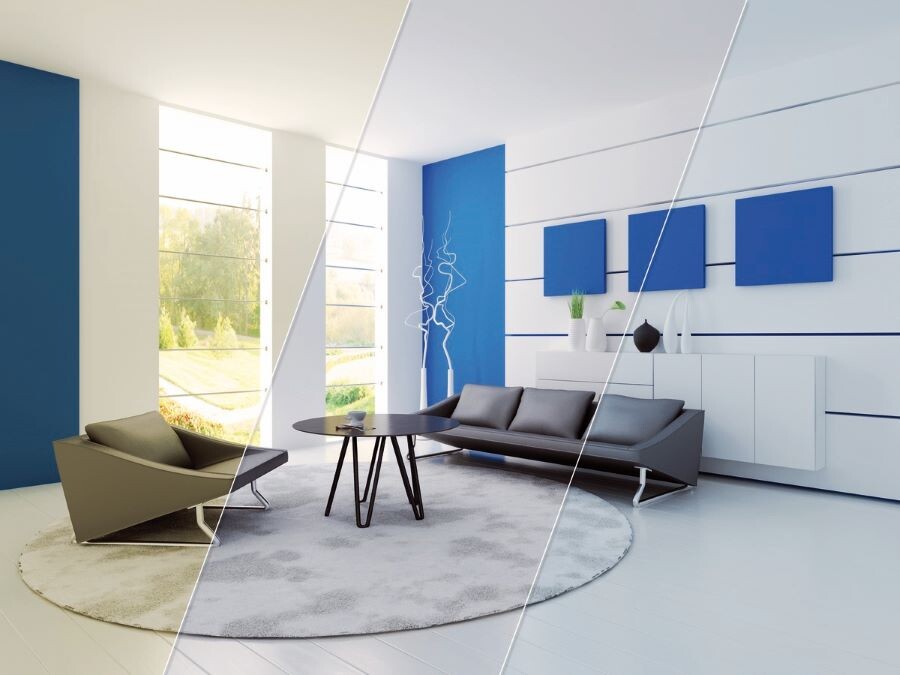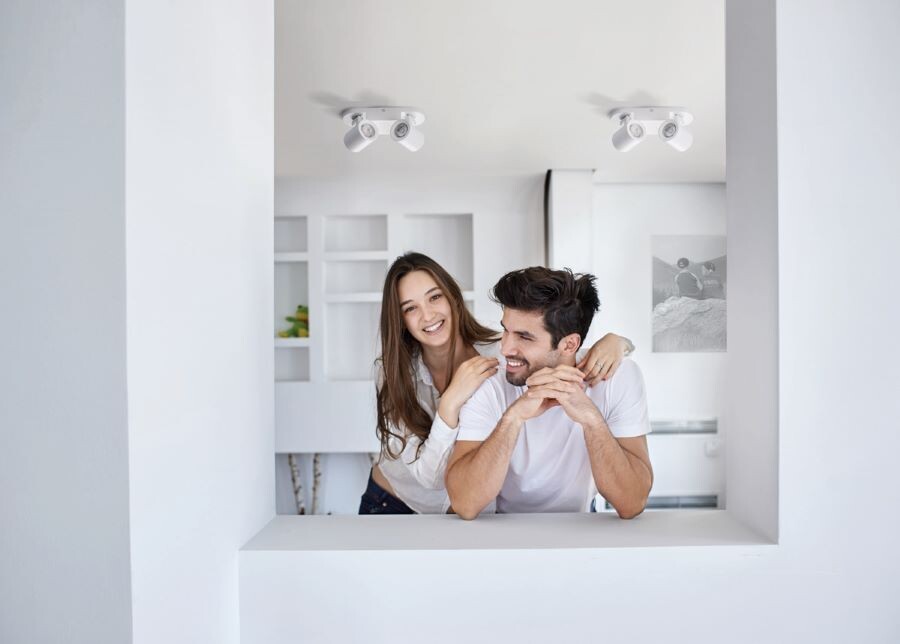 What kind of light bulbs to choose for the living room?
In the main room - the living room, which has many functions, the optimal choice will be LED bulbs. Modern LEDs give the possibility of choosing the colour of the light and perfectly harmonise with other light sources, such as IQ-LED GU10 in the Kanlux LAURIN wall and ceiling luminaire.
Remember that you can also buy lamps for your home that already have a non-replaceable LED light source installed. They last even longer than replaceable LED bulbs – up to 50,000 hours! These lamps also allow you to choose the colour of light that suits you – look for the markings on the packaging.
Light bulbs for bedrooms
A slightly different rule applies when choosing bedroom lighting. Here, we should use lamps which allow us to adjust the light intensity or automatically increase it. Being blinded by white light right after waking up is neither pleasant nor healthy for the eyes. That is why it is a good idea to look for weaker LED bulbs to get used to the light in the morning. One of the possible choices when it comes to lamps that will be placed on a cabinet or bedside table is Kanlux DAIBO. Their warm light of moderate intensity will allow us to wake up peacefully in the morning.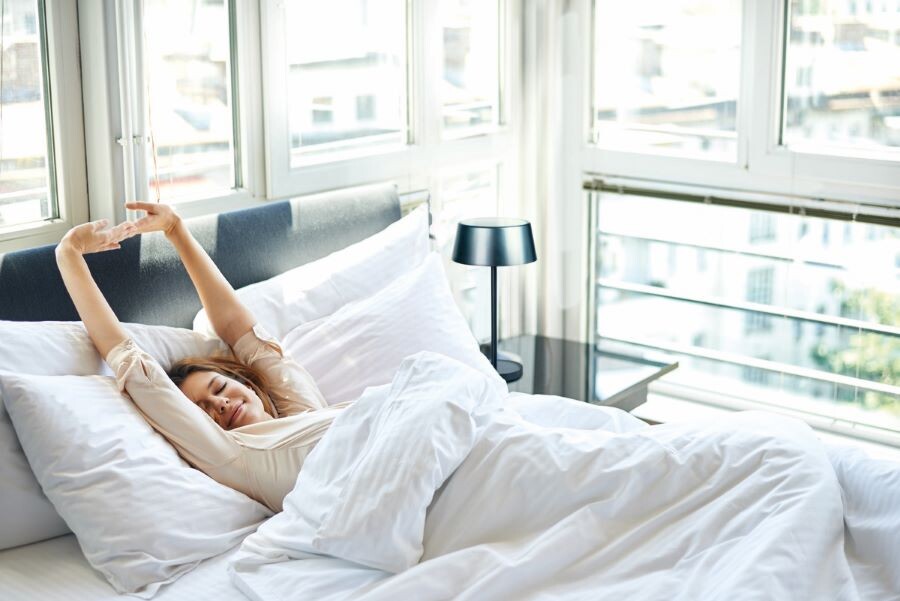 It is very important to sleep well. At night, our bodies recuperate to function properly throughout the day. Therefore, we should remember that the warm colour "informs" the brain that... the sun is setting, preparing it for the resting phase. It is also best not to use a cell phone while lying in bed. The cold light of the display will artificially stimulate the brain and get us going.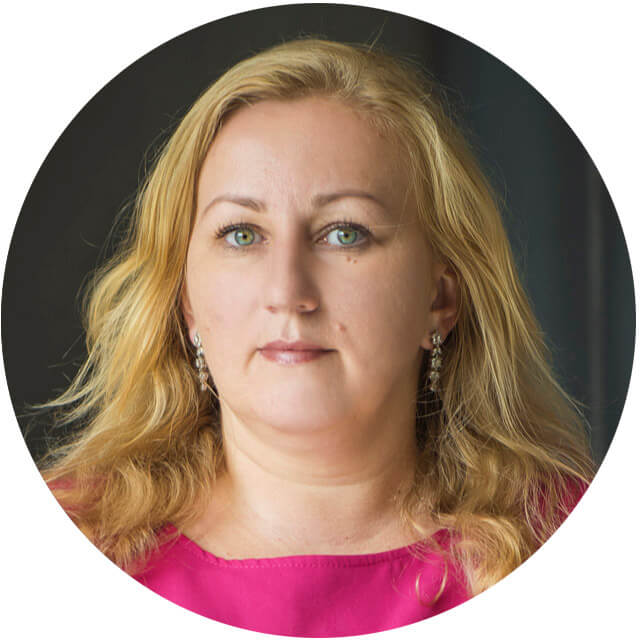 What kind of light bulbs to choose for the kitchen?
The most important room in the house must have proper light power, such as Kanlux SONOR GU10 with IQ-LED GU10 light source. Ideally, light points should be placed above each space. Under-cabinet luminaires are also a good choice, as they will directly illuminate the area where all precision work is done.
Light bulbs for the bathroom
In the bathroom, it is worth dividing the lighting. The main bathroom ceiling lighting in combination with a minimalist luminaire, such as Kanlux ASTEN by the mirror, will produce a unique effect. For women, it is especially important to properly light the bathroom in order to accurately apply makeup.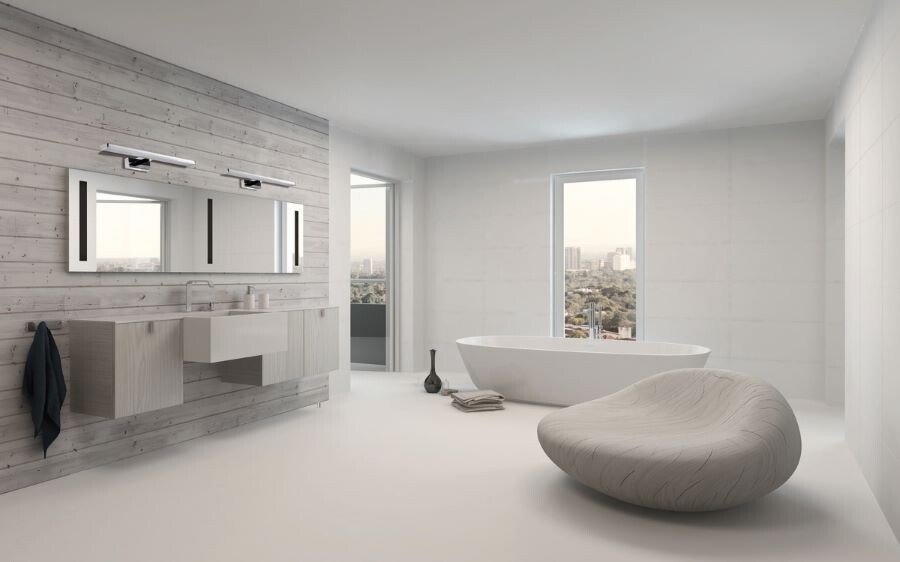 Light bulbs for the office and a student's room
In your work and study space, it is a good idea to provide neutral or cool light to help you focus. The possibility of adjusting the direction of light, as in the case of Kanlux PIXA lamp, is also valuable. If you want to learn more about this topic, see our short guide on how to choose a desk lamp.
When choosing lighting for a room, always try to take into account what it is intended for and do not choose just one point of light in a room - also for safety reasons.
---
Other articles